| | |
| --- | --- |
| Posted by Stefanie on June 4, 2013 at 12:20 PM | |
  I just wanted to tell you about a product that It's sold worlwide. Have you heard of Dr.Organic Herbs-Line? There are creams and stuff based on herbs which make them so natural and chemical-free. I'm totally in love with their stuff, they have lots of them for every skin type. But this post is mainly about some products I used,their soap and cream of tea tree line.
  Since I have some issues with spots from puberty my skin is a mess. Sometimes It's oily and sometimes It's so dry it makes me depressed. I've been to a situation when it was impossible to even smile, so I have a combination skin. When I stress out, I break out badly and since my week is being a mess, my skin is totally in a bad condition. 
 A week ago, Holland&Barett had a discount 50% so I thought why not buying some products? I should mention that it's possible to find Dr.Organic lines in pharmacy and other herbs shops. 
About the Soap: This soap is totally amazing! I remember buying a soap costing like 12euro for my oily skin. When I use this soap I feel like it's taking all the oilness from my skin and I totally like it. And it's very cheap as well. I think you could use it for one or two months! Worth it. I'd buy it again since I'm really satisfied.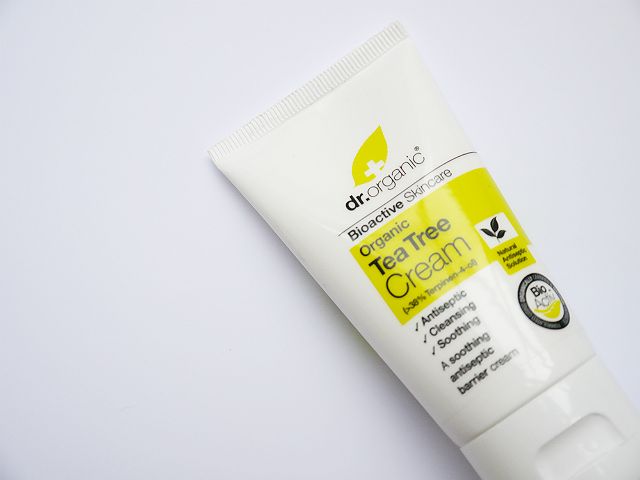 Labelled as a soothing antiseptic barrier cream and containing not only tea tree oil but also aloe vera, sunflower oil and cocoa butter, it's a beautifully cooling and healing cream that gives my skin a gorgeous glow whilst clearing active break outs and preventing new ones from popping up.Also, it makes it soft and doesn't dry it out. It was really cheap as well
 And the size is decent (50ml tube).It didn't clear me up but I really think over time it's gonna be helpful. I'm tired of putting all chemicals on my face,time to use natural stuff.
  Have you tried the Dr.Organic Products? What's your experience with them? And what do you do when your skin breaks out?